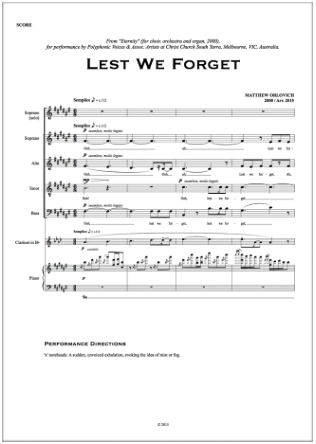 Lest We Forget (for Soprano, SATB choir, Bb Clarinet and Pianoforte, 2015) is an arrangement of part of a larger work entitled Eternity which was commissioned in 2000 for performance by the Combined Sydney College Choirs and Orchestra at the "Millennium Concert", St Mary's Cathedral, Sydney, Australia.
The work juxtaposes two distinct texts: "Communio" from the Latin Requiem Mass and the words "Lest we forget".
Lux aeterna lucea eis, Domine,
Cum sanctis tuis in aeternum, quia pius es.
Requiem aeternam dona eis, Domine, et
lux perpetua luceat eis cum sanctis tuis in aeternam, quia pius es.[May light eternal shine upon them, O Lord,
with Thy saints for ever, for Thou art merciful.
Eternal rest grant unto them, O Lord, and
let perpetual light shine upon them with Thy saints for ever, for Thou art merciful.] – Latin Requiem: Communio.
Lest we forget.
– Traditional.
Accompanied by intermingling sostenuto choral phrases and twinkling piano tones, the soprano issues forth gently ascending melodic phrases, seeking to evoke the idea of spirits floating gently into the highest heavens. Interjections of a more ominous tone – set to the words "Lest We Forget" – bring the clarinet, piano and choir to the fore and lead the work to a rounded climax, whereafter a brief reprise of the introduction signals the work's conclusion.
I thank Polyphonic Voices, Artistic Director Michael Fulcher and the choir's Associate Artists for giving the world premiere of this arrangement at Christ Church South Yarra, Melbourne, during this year of the 100th Anniversary of the ANZAC landings at Gallipoli.
Matthew Orlovich,
Composer.