Excerpt: Twinkle, Twinkle Little Star Ferry (for solo piano) performed by Matthew Orlovich.
Twinkle, Twinkle Little Star Ferry (for solo piano, 2013) is a short, programmatic piece inspired by one of Asia's iconic attractions, the Hong Kong Star Ferry.
The introductory music is intended to evoke the rumbling sounds of the ferry as it strains at its ropes alongside the pier at Tsim Sha Tsui. The ferry's departure from the pier is represented by the piano's swirling arpeggios which ascend towards the crystalline, twinkling upper registers of the piano.
The hazy, ethereal passage that follows (entitled "On the harbour") makes use of the complete "Twinkle, Twinkle Little Star" theme, varying it by way of ornamentation (acciaccatura and tremolo). Rhythmically, the theme is gently pushed and pulled to suggest a sense of the Star Ferry's progress across the waves. Harmonically, the left-hand accompaniment contributes an "all-at-sea" feel with its rolling, whole-tone patterns. As the Star Ferry nears its destination, a rallentando is effected in combination with a descent in register.
Arriving at Central Pier, the rumble of the idling ferry is heard once more and the gangplank is lowered abruptly (as heard in the Coda), signaling the conclusion of the work.

Matthew Orlovich,
Composer.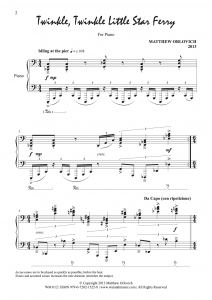 SATURDAY 26 MAY 2018 (8PM)
Twinkle Twinkle Little Star Ferry (for solo piano)
Recital Hall, 8/F High Block, Hong Kong City Hall, Hong Kong, SAR PRC.
Program: Dufy Atelier des Musicians & Artists proudly presents "Variations – PRIVATE COLLECTION" – showcasing unique and rare masterpieces of piano variations which are mostly Hong Kong premieres. Pianist Stanley Wong will present legendary composer-pianist Fred Hersch's epic, virtuosic "24 Variations on a Bach Chorale" and the sparklingly inventive variations based on the Chinese folk song "Awariguli" by Chen Yi, one of the most distinguished and leading Chinese women composers in the world. New Zealand pianist Ross Carey will perform a diverse cornucopia of stylistic arrangements on the tune "Twinkle Twinkle Little Star" by plenty of worldwide contemporary composers. Combining the frivolous to the frenetic, the fragile to the fragrant, the popular to the profound, every composer has responded with good humor and imagination. Preciously including a piece titled 'Hong Kong' by Dominik Gadjos from the Czech Republic. The composer wrote this piece when he was just 10 years old. Another one is 'Twinkle, Twinkle, Little Star Ferry' by Matthew Orlovich from Australia depicting a journey by Star Ferry across HK harbour! The concert also features the premiere of Ross Carey's Variations on a Balletto for piano four hands. And Guest pianist Yuki Fung will perform a transcription of Mozart's Turkish March. Discovering the gems of piano variations in the "Private Collection" is a privilege. Only very few concerts would offer these treasures. (Source: Concert flyer PDF)
More details: https://artsypno.wixsite.com/concert/blank-3
Tickets: artsypno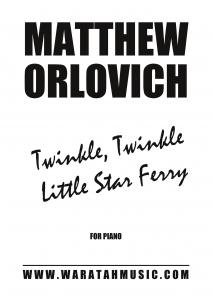 TITLE:
Twinkle, Twinkle Little Star Ferry
DATE OF COMPOSITION:
2013
SCORED FOR:
Piano
DURATION:
c. 2 minutes
PUBLISHER:
waratahmusic.com
ISMN:
979-0-7202-1522-8 (Printed Edition)
979-0-7202-1523-5 (PDF Digital Download)