SUNDAY 9 SEPTEMBER 2018 (3PM)
Calm the Waves of this Heart (for soprano saxophone and SATB choir) *WA PREMIERE*
+
Gloria alla Serenissima (for soprano & alto soloists, SATB choir and piano) *AUSTRALIAN PREMIERE*
Performers: Voyces, Inc.
Program: Plus One (Choir + Instrument).
Venue: Christ Church Claremont, Cnr Queenslea Dr & Stirling Hwy, Claremont, WA 6010.
Tickets: www.eventbrite.com.au
Gloria alla Serenissima (for Soprano & Alto soloists, SATB choir & Piano, 2015) was composed in response to a call for scores for the choristers of London College of Music, University of West London, UK.
My composition takes inspiration from the text of Antonio Vivaldi's Gloria in D Major RV 589, and in particular, brings to the fore the sounds of the city of Venice, as Vivaldi might have known them.
Scored using onomatopoeic effects shared between choral parts, the music begins as if appearing out of a Venetian fog. Sounds of gently lapping water and the quiet coo-ing of pigeons set the scene for the ensuing lively setting of the opening lines of the Gloria:
Gloria in excelsis Deo.
Et in terra pax hominibus bonae voluntatis.
My musical ideas and melodic material in the work are regularly swapped and shared between all the vocal parts, helping to create something of a surround sound effect over the course of the work.
Following a climax involving both soloists, tutti choir and piano, the work comes to an atmospheric end when, like a frame for the work, the opening onomatopoeic effects make their final appearance before gently being enveloped by the fog of the final bar.
I thank Mr Paul Ayres for organising the Call for Scores and extend my gratitude to the performers of the London College of Music for affording the work its world premiere performance.
Matthew Orlovich,
Composer.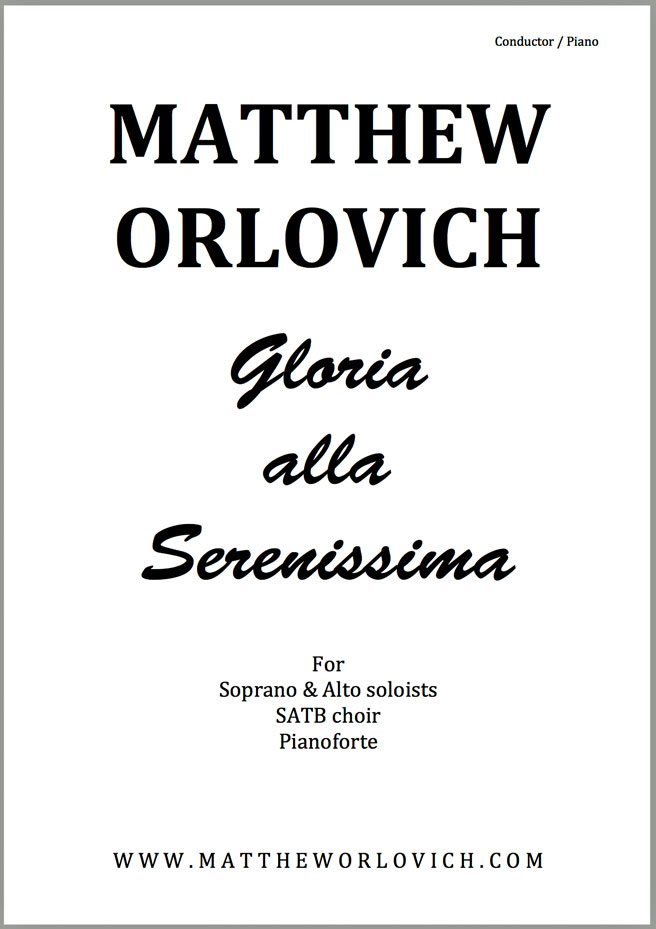 "Gloria alla Serenissima"
(for Soprano & Alto soloists, SATB choir and Piano)
PDF Scores and Licensing available
TITLE:
Gloria alla Serenissima
DATE OF COMPOSITION:
2015
SCORED FOR:
Soprano & Alto soloists, SATB choir and Piano
DURATION:
c. 3 minutes, 30 seconds
WORLD PREMIERE:
Wednesday 25th March, 2015: London College of Music Chorus, Chamber Choir and Soloists, with Matthew Fletcher (piano), conducted by Paul Ayres @ St Matthew's Church, North Common Road, Ealing, London, UK.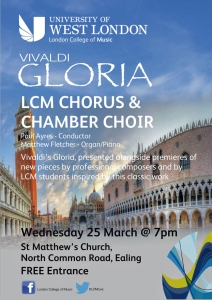 PUBLISHER:
Matthew Orlovich
ISMN:
To be assigned
If you would like more information about this score, feel free to email me.
I look forward to hearing from you!