Ezekiel (for SSABar choir, piano and percussion) was commissioned in 2004 by The Hunter Singers, Newcastle, directed by Kim Sutherland, with financial assistance of the Music Board of the Australia Council.
The work, of approximately 8 minutes duration, draws upon a poem by the Australian writer Luke Davies, entitled "Ezekiel". Luke's poem appealed to me with its vivid images of natural phenomena, flora and fauna, and with its allusion to the realm of sci-fi.
The words and music reflect on the science of familiar things (flowers, clouds, bees, rain, light, as well as our other elemental surroundings) to reveal a contemporary and fascinating reflection on 'the big picture', that is: our place in the vast universe, what we are experiencing, and what we are expressing with our human emotions.
The musical ideas in my composition have been inspired by the sounds and rhythms of the poet's language, as well as the poet's images. Syncopated, energetic rhythms propel the melodies in the first half of the piece through a series of repetitions. Then, from the middle of the piece onwards, a series of modulations allows my music to build to a climactic and energetic conclusion.
I sincerely thank The Hunter Singers for commissioning the work. My thanks also goes to Luke Davies for kindly allowing me to set music to his poem. I also gratefully acknowledge the financial support of the Music Board of the Australia Council.
Matthew Orlovich,
Composer.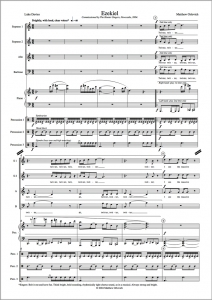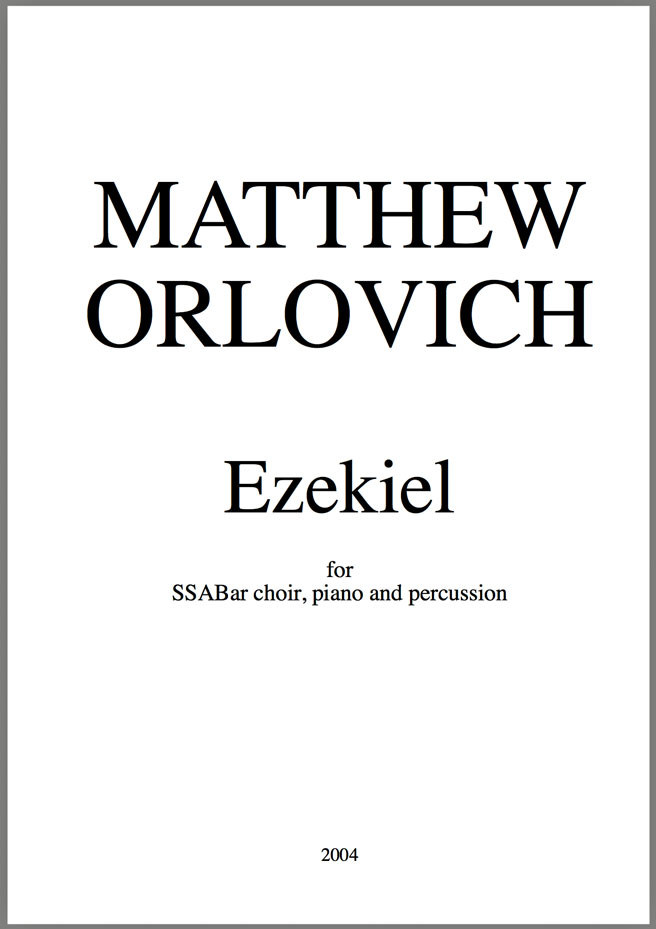 "Ezekiel"
(for SSABar choir, piano & percussion)
PDF Scores / Parts and Licensing available.
TITLE:
Ezekiel
DATE OF COMPOSITION:
2004
SCORED FOR:
SSABar choir, piano & percussion
TEXT BY:
Luke Davies
DURATION:
c. 8 minutes
WORLD PREMIERE:
Sunday 7th November, 2004: Performed by The Hunter Singers, conducted by Kim Sutherland @ Concert Hall, Newcastle Conservatorium, Newcastle, NSW, Australia.
PUBLISHER:
www.mattheworlovich.com
ISMN:
To be assigned
If you would like more information about this score, feel free to email me.
I look forward to hearing from you!