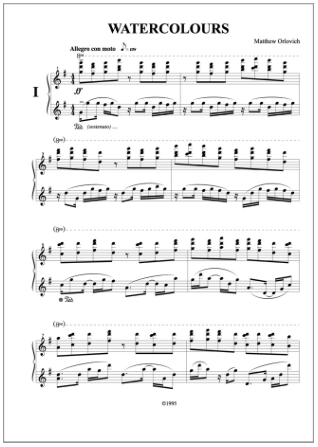 In composing Watercolours (for solo piano), I have sought to reflect something of the beauty and spirit of Australia's coastal waters through a music which is inspired by the sounds of gongs, bamboo flutes, voices, metallophones and all the other instruments which comprise the Javanese Gamelan.
The composition consists of five parts (I-V) which are centred around different keys and arranged in a pattern that heightens their contrasting moods. Images associated with our coastal waters and the sounds of the gamelan are present in all five parts, providing a unifying element to the work.
Part I commences with a bright and austere music characteristic of the clear ringing sounds which emanate from the metal instruments of the gamelan. This music leads the listener into an evocative Lontano section before the bright opening material is recalled. The feeling of the earlier distant music (Lontano) is evoked in the concluding bars.
Part II is characterised by music of a darker hue, which reveals just a fleeting, but promising, ray of sunlight [Un poco luce del sole].
Brisk flourishes and flowing textures signal the beginning of Part III. Appearing tentatively at first, the material unfolds to reveal a tuneful pentatonic melody. The music rises to a brightly coloured climax, whereupon the opening flourishes are recalled and the music very gently disappears.
Part IV, a tranquil and reflective music, draws upon the reverberant sounds of wind chimes and birds. An espressivo inner melody emerges amidst a background of sympathetically vibrating strings.
Part V is a spirited and lively finale which contains a calm middle section in slow tempo. Gradually becoming more intricate, it builds to an energetic tempo with the spirited and lively music bringing the work to its conclusion.
Matthew Orlovich,
Composer.