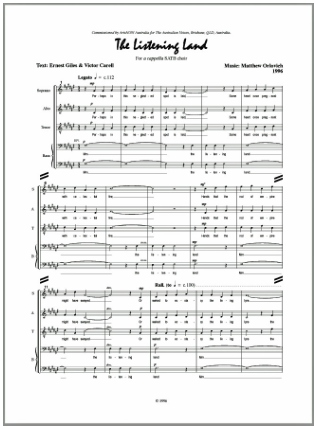 The Listening Land (for a cappella SATB choir, 1996) was commissioned by ArtsNOW Australia. It received its premiere performance by The Australian Voices, under the direction of Graeme Morton, on Saturday 20th April, 1996 at St James Church, King Street, Sydney, Australia. Following performances of the work at the 4th World Symposium on Choral Music and during the 1996 international tour of The Australian Voices, the work was performed to great acclaim in 1997 by The Melbourne Chorale, under the direction of Graham Abbott, and at the 52nd Australian Intervarsity Choral Festival, conducted by Christopher Kiver, in Adelaide, 2001.
The work draws together two different texts published over one hundred years apart:
• Excerpts from Ernest Giles, Australia Twice Traversed: The Romance of Exploration, Being A Narrative Compiled From The Journals Of Five Exploring Expeditions Into And Through Central South Australia, and Western Australia, From 1872 To 1876;
• Victor Carell, The Listening Land.
The narrative of the third expedition led by the Australian explorer Ernest Giles into the remote interior of South Australia in 1875, describes his thoughts and feelings on gazing at the stars. After travelling 220 miles without seeing water, Giles had grave forebodings concerning what lay ahead. He gazed that night at the beauty of the 'gorgeous constellations' which were his only source of repose and comfort.
Victor Carell's poem, The Listening Land, was inspired, according to the poet, by the timeless silence of Central Australia, experienced on an eight month research trip in 1953, during which he lived with Aboriginal tribes. The poem, comprising four stanzas, evokes a sense of timelessness, through the portrayal of the landscape as still, quiet, listening and waiting.
The composition is framed by a chorale-like setting of several lines of rhyming text quoted by Ernest Giles. Following the opening statement of this music, Ernest Giles' text describing the 'gorgeous constellations' is heard, set to a rhythmic but smoothly flowing music and briefly prefaced by narrated text. As with my other recent works, the setting of Ernest Giles' text is characterised by the use of pentatonic melodic material and accompanying ostinato patterns. A setting of the first two verses of Victor Carell's poem ensues, employing music of a sparser nature, with the lower registers of the choir being prominent. The celestial music returns, this time with bass voices adding emphasis to the melodic line, and again prefaced by narrated text. The setting of the final two stanzas of Carell's poem is presented and the chorale-like frame signals the conclusion of the work, with celestial music being heard in the final, fading moments.
Matthew Orlovich,
Composer.