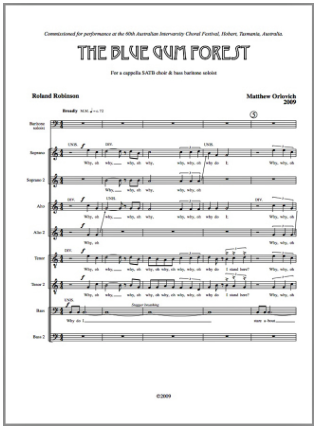 The Blue Gum Forest (for a cappella SATB choir and bass baritone soloist) is a setting of *Roland Robinson's poem of the same name. It was commissioned in 2009 for performance at the 60th Australian Intervarsity Choral Festival in Hobart, Tasmania.
My setting comprises four sections. The opening, broad style of music is intended to convey a sense of the "out-of-doors". The choir eludes to the poet's ever-questioning nature, singing "Why do I stand here, stare about me?" The bass baritone describes how the poet clung, clambered and crashed his way down sheer gorges' walls to find the forest.
Emerging from forest birdsong, the second section presents a rhythmic and melodious music. The choir sings of the naked smooth blue gums whose limbs overarch and, "lost in height, mingle in myriad tongues".
In the third section of the work, the choir and soloist tread slowly beneath the trees, "long desiring", "long-looking" at the lichens, moss and ochre-red fungi, before sinking into pungent mould.
The calls of Laughing Kookaburras herald the final section of the work in which the choir and soloist sing of the blue-grey pipes "soaring to their arches that lull, linger, leave off, then swell, hail, all hail in hosannas, in hosannas."
I warmly thank the 60th Australian Intervarsity Choral Festival for commissioning the work. I also gratefully acknowledge HarperCollins Publishers for granting permission to set music to Roland Robinson's poem.
Matthew Orlovich.
Composer.
*Roland Robinson, Selected Poems, North Ryde, Angus & Robertson Publishers, 1989, p.39. Grateful acknowledgement is made of HarperCollins Publishers for granting permission to set this text.