Seventh Heaven (for soprano saxophone, alto saxophone and piano) was commissioned in 2021 by Clifford Leaman and Joseph Lallo. The title of the score is intended to suggest not only the abundantly joyful mood of the music, but also my fondness for using the interval of a Major 7th.
The first movement (Brillante, crotchet = c. 120) sets the scene with a cavalcade of flourishing gestures, buoyant melodies, spiky rhythms and climactic modulations. Working as one, the three instruments aid and abet each other to create a highly energised, driven music. As if uninvited, a brief fragment of classically-inflected bitonal piano music makes its first contrasting appearance in the musical narrative, followed by a resumption of heightening tensions leading to the conclusion of the first movement.
In the second movement (Fugitivo, crotchet = c. 108), the scene is one of shadows and light, zephyrs and wind chimes, with a central section marked Dolcissimo, con rubato.
Beginning with a 9/8 time signature, the third movement (Con ritmo, dotted crotchet = c. 80) uses a motoric piano rhythm to underpin the lengthy strides of a new theme echoed between the two saxophones. After a series of modulations heighten the music's tension, there ensues an abridged recapitulation of material from the first movement, followed by a decisive coda.
I thank Clifford and Joseph for commissioning Seventh Heaven and extend my best wishes for their world premiere performance.
Dr Matthew Orlovich,
Composer.
World Premiere Performance – To be announced.
Performers: Clifford Leaman (sax), Joseph Lallo (sax) & Associate Artist (pno).
Stay tuned for details!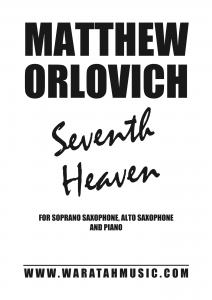 Seventh Heaven
(for Soprano Sax, Alto Sax and Piano)
Coming soon to
WARATAHMUSIC.COM
TITLE:
Seventh Heaven
DATE OF COMPOSITION:
4 October, 2021
SCORED FOR:
Soprano Saxophone, Alto Saxophone, Piano
DURATION:
c. 10 minutes, 30 seconds
(Coming Soon)

ISMN:
Printed Edition (WM020):
ISMN 979-0-7202-1538-9
PDF Digital Download (WM020e):
ISMN 979-0-7202-1539 – 6
If you would like more information about this score, feel free to email me.
I look forward to hearing from you!