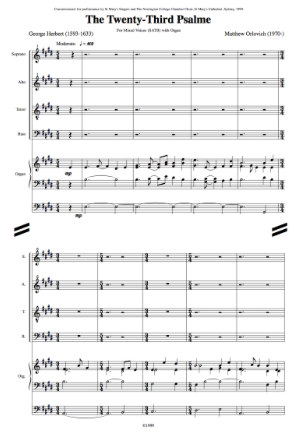 Psalm 23, scored for Mixed (SATB) Voices and Organ, was commissioned in 1999 for performance by St Mary's Singers and The Newington College Chamber Choir, at St Mary's Cathedral, in Sydney, Australia.
When beginning to compose the setting, I looked to George Herbert's text for rhythmic ideas and became attracted to the idea of using a 5/4 pulse. This rhythm then inspired other characteristics of the piece, such as its form, melodic material and harmonic language.
Following an organ introduction, the choir, unaccompanied, sings the first three verses of text. The organ music returns, leading us towards the central section of the piece, wherein the musical material and mood alters with the setting of verses four and five. The final section represents a slightly broader return of the earlier music with the setting of the last verse and coda forming the concluding climax of the work.
Matthew Orlovich,
Composer.