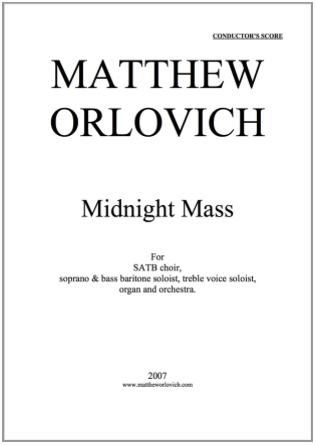 Midnight Mass (for SATB choir, soprano & bass baritone soloist, treble voice soloist, organ and orchestra) was commissioned by Father Arthur Bridge for performance at Midnight Mass, held at St Patrick's Church, Blacktown, NSW, on Tuesday 25 December, 2007.
The Midnight Mass setting comprises:
I. Processional (O come, all ye faithful) (3'08")
II. Lord Have Mercy (1'07")
III. Gloria (1'36")
IV. Responsorial Psalm (2'40")
V. Gospel Acclamation (1'46")
VI. Profession of Faith (Creed) (4'40")
VII. Offertory Song (Lo, there is light!) (3'13")
VIII. Holy Holy Holy (1'09")
IX. Memorial Acclamation (0'30")
X. Amen (Full) (1'31")
XI. Lord's Prayer (2'00")
XII. Lamb of God (0'46")
XIII. Communion songs:
i. Away in a Manger (2'33")
ii. Silent Night (3'31")
XIV. Recessional (Joy to the World) (2'40")
I wish to thank Father Arthur Bridge for commissioning the work. I also gratefully acknowledge the contribution of time and talent made by all the musicians and behind-the-scenes workers involved in the premiere performance of the work.
Matthew Orlovich,
Composer.