Huge Earth was conceived back in 2003 as a three-movement work scored for massed choirs, orchestra, pipe organ and soloists. Commissioned by St Andrew's Cathedral School in Sydney, Australia, it received its world premiere performance at Sydney Town Hall on 26th June, 2003. (To read more about the original work, click here…)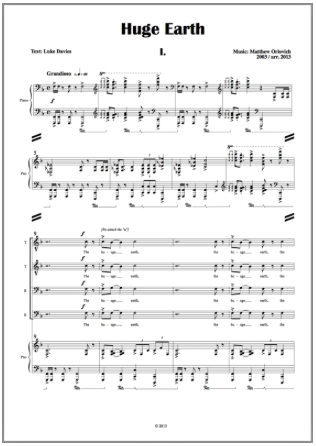 In 2013, at the invitation of conductor Jacob Narverud (Kansas City, USA), I arranged the first movement of the work for TTBB choir with piano accompaniment. Under the baton of Jacob Narverud, it received its first performance at a concert entitled "Galaxies" presented by Amphion Male Vocal Ensemble, USA on 23rd March, 2013.
During the work, choristers sing of the awe-inspiring magnitude of the earth…
The huge earth, bigger than we can
possibly imagine, held together as if by
string or magic …
Grateful acknowledgement is made to poet Luke Davies and publisher Allen & Unwin for permission to set this text to music.
Matthew Orlovich,
Composer.
"Huge Earth – Mv. 1"
(for TTBB choir & piano)

TITLE:
Huge Earth – Mv. 1
DATE OF COMPOSITION:
2003 / Arr. 2013
SCORED FOR:
TTBB choir & piano
TEXT BY:
Luke Davies
DURATION:
c. 3 minutes
WORLD PREMIERE:
23rd March, 2013: Performed by Amphion Male Vocal Ensemble with Robert Pherifo (piano), conducted by Jacob Narverud @ Cathedral of St Peter, 409 North 15th Street, Kansas City, KS, USA.
PUBLISHER:
Matthew Orlovich
ISMN:
To be assigned
If you would like more information about this score, feel free to email me.
I look forward to hearing from you!