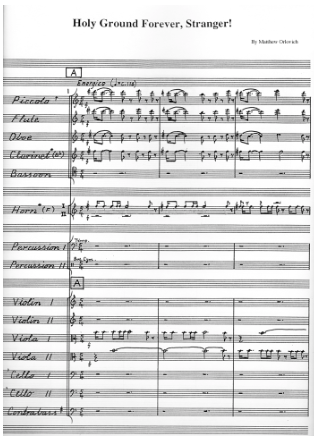 Holy Ground Forever, Stranger! received its first performance by the Sydney University Symphony Orchestra, conducted by Antony Walker, at the Sydney University Orchestral Composers' Workshop in July 1992.
The work, which was recorded by the Australian Film, Television and Radio School, was subsequently included in the Concert Series of the Sydney University Symphony Orchestra.
A line from Henry Kendall's poem "On Sutherland's Grave" serves as the title of my orchestral work and the poem brings to the piece references to a "wailful sea" continuously lamenting that the sailor Forby Sutherland has been buried ashore.
The work, which consists of 5 sections, alternates between quick, rhythmic music and slower, more contemplative music. Each quick, rhythmic section culminates in a climax and leads into the contrasting slower section. The first of the slow sections features an oboe melody accompanied predominantly by strings and vibraphone, while the second slow section features the violins and cellos in counterpoint. A return to the quick, rhythmic music concludes the work.
Matthew Orlovich,
Composer.