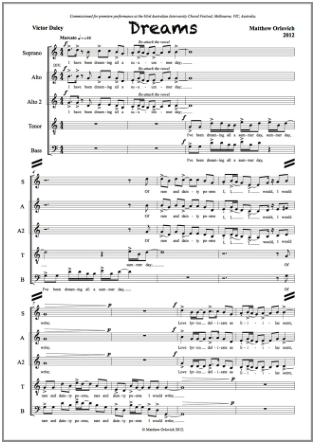 Dreams (for a cappella SATB choir, 2012) was commissioned for premiere performance by the massed choir of the 63rd Australian Intervarsity Choral Festival, conducted by Andrew Raiskums, held on Saturday 14 July, 2012, at Melbourne High School Memorial Hall, South Yarra, VIC, Australia.
Reflecting on the "End of Days" theme of the choral festival, I was inspired to set a poem entitled "Dreams" by Victor Daley. The poet writes about a summer day spent dreaming about all the rare and dainty poems he would write: "love-lyrics delicate as lilac-scent, soft idylls woven of wind, and flower, and stream, and songs and sonnets carven in fine gold." As dusk descends and the clouds take on hues of rose and chrysolite, the poet asks "Must all my dreams in darkness fade away?"
In setting the poem to music, I have sought to present two contrasting moods in an alternating fashion, an energised and uplifting mood evocative of the poet's flights of fancy, and a more plaintive mood underscoring the poet's lamenting, at day's end, the passing of his dreams "into the shadow of the falling night."
I warmly thank the 63rd Australian Intervarsity Choral Festival for commissioning the work and express much gratitude to all the choristers and to conductor Andrew Raiskums for giving the premiere performance.
Matthew Orlovich,
Composer.