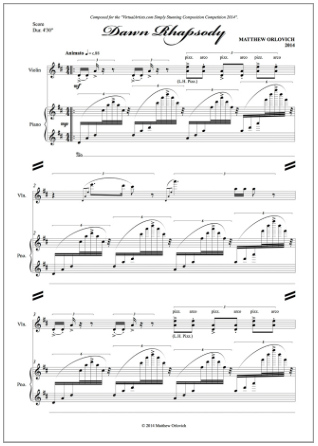 Dawn Rhapsody (for violin and piano, 2014) takes its inspiration from a simply stunning sunrise on the coast.
The piece commences with a bright and effervescent violin melody set against flourishes of crystalline piano arpeggios. My melodic material seeks to reach and aspire ever upwards, ascending to its zenith in the final moments of the work. During the piece, I have included brief interludes of pizzicato combined with hazy, sustained piano textures, as well as passages which explore the rich and varied timbres of both instruments' registers.
I thank VirtualArtists.com for the opportunity to participate in the composition competition!

Matthew Orlovich,
Composer.