STOP PRESS – 21st March, 2015 – "All is one and one is all" has won "BEST ORIGINAL VOCAL ARRANGEMENT" at the Inaugural Gala Final of the 2015 Short+Sweet Voices Festival in Sydney, Australia! STOP PRESS – Joubert Singers has won "MOST ORIGINAL PERFORMANCE"! Well done, Joubert Singers!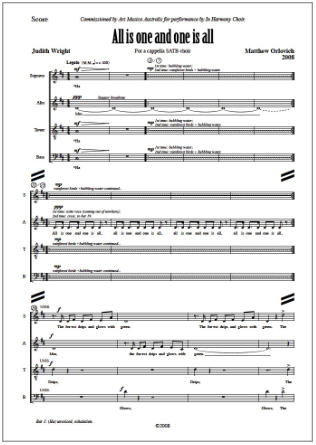 All is one and one is all (for a cappella SATB choir, 2008) is based upon the poem "Rainforest" by the Australian poet, Judith Wright (1915–2000). The work was commissioned by Ars Musica Australis for premiere performance by In Harmony Choir, directed by Rachelle Elliott, at Riverside Theatres (Big Notes Music Series), Parramatta, NSW, Australia, on Sunday 22 March, 2009
The poem invites us to listen to the voice of stillness, moss and rain amidst the green glow of a dripping rainforest. To understand the voice, we must move into a dream where tree-frog and python are the same, a timeless place where "all is one and one is all".
In setting the poem to music, I chose to begin the work with a choral soundscape of water and rainforest birds. From this sonic backdrop, there emerges a lively rhythm which carries through into my melodic treatment of the verses. The sounds of birds and water in the rainforest return in the closing bars to form a frame for the work.
*Judith Wright: 'Rainforest' from A Human Pattern: Selected Poems (ETT Imprint, Sydney, 1996). Grateful acknowledgement is made of ETT Imprint for granting permission to set this text.
Matthew Orlovich,
Composer.
Since its world premiere performance by In Harmony Choir in March 2009,
All is one and one is all
is finding its way into the repertoire of a growing number of Australian choirs, including:
• The Taverner Consort of Voices
• Mac-appella
• Hunters Hill Sesquicentenary Choir
• Choristry
• Joubert Singers
• The Australian Boys Choir with The Vocal Consort & The Kelly Gang
• Wesley Institute Choir
• Sydney New Philharmonic Choir.